Operations Note: This site remains operational as an educational example as well as testing tool.
Due to testing,the site may periodically be down.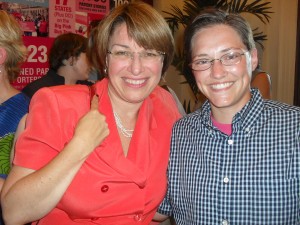 Jen Ham with US Senator Amy Klobuchar (D-Minnesota)
Why I support Referendum 74
by Jen Ham
I am proud to work for an organization that supports [marriage] equality. Planned Parenthood Votes Northwest (PPVNW) is an independent, nonprofit, nonpartisan advocacy organization educating Alaska, Idaho, Washington and policy-makers about reproductive health issues.
We support equality under the law, and access to social services for all families regardless of race, ethnicity, income, gender or sexual orientation. That is why we support Approving Referendum 74— because we support strong families.
We firmly believe that all people should be able to determine the course of their lives, and we are glad to be part of a movement that supports the same principle. Our mission includes protecting and promoting the health of all families, no matter their makeup. We are proud to stand behind the many men, women and families seeking to make a lifetime commitment to the person they love, and protect their families.
This November, our field team in Washington is pulling out all the stops to make sure that the freedom to marry is available to all in Washington, and we WILL Approve Ref. 74!
Jen Ham is a Community Organizer for Planned Parenthood Votes Northwest. She is a graduate of Central Washington University, was a member of the 2006 Soulforce Equality Ride, and loves Star Trek. She lives in Ellensburg with Joanna, her supportive partner of almost nine years, their dog, and their four unsupportive cats.
Join The Fights!

Sign up for updates from the campaign