Operations Note: This site remains operational as an educational example as well as testing tool.
Due to testing,the site may periodically be down.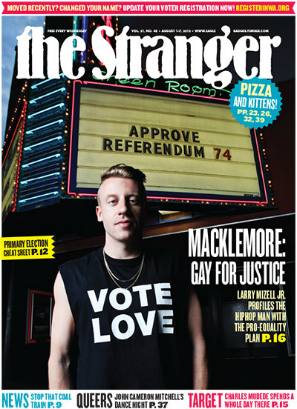 Music for Marriage Equality supporter and Seattle-based hip-hop artist Macklemore covers this week's edition of The Stranger. In it, he provides the background and inspiration for "Same Love", the tune produced with collaborator Ryan Lewis, also featuring Mary Lambert.
The tune has already scored over 10,000 downloads. 100% of the digital download proceeds benefit the fight for marriage equality. Be sure to get yours today through iTunes or Amazon.
Join The Fights!

Sign up for updates from the campaign