Operations Note: This site remains operational as an educational example as well as testing tool.
Due to testing,the site may periodically be down.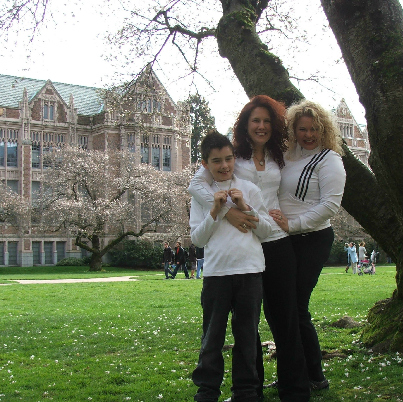 Name: Erin Leary
City: Seattle, WA
Occupation: Nurse
Union affiliation: SEIU 1199
As a mother, a health care professional and a long-time domestic partner, Erin Leary is one of many faces of our campaign. Her support and her story a touching reminder of the reason we all support Referendum 74.
"When you support marriage equality, you support families," Erin said. "People get married because they want to be a family. They don't want to do it for financial benefits; they want to devote themselves to each other as a family. To me, [supporting Ref 74] is just supporting people being in a family."
And Erin wants others to feel the same way.
"The domestic partnership…it just doesn't really say you're committed. It doesn't give you the same benefits as a marriage gives you. People say, 'you're married,' and you don't have to explain it any more. They get it."
Erin, her son, and her partner Michael Scott – a manger at Cobalt, are a family. And like so many other families, they want to be validated, recognized by their community. Like so many others, Erin and her partner want the freedom to marry.
So come November, they'll be voting to Approve Referendum 74. They'll be voting to support their community and they'll be voting to support their family.
Because in the end, it's about family.
Join The Fights!

Sign up for updates from the campaign