Operations Note: This site remains operational as an educational example as well as testing tool.
Due to testing,the site may periodically be down.

Washington United for Marriage is proud to kick off this Small Business week with the announcement of 327 small businesses across the state having pledged support for the Approve Ref. 74 campaign to defend the state's bipartisan marriage law.
These business owners all share the same belief– that loving same-sex couples should be able to marry the person they love.
Throughout the week, we'll be featuring a few of these small businesses from across the state, each sharing why Approve 74 is good for their businesses and communities.
We're kicking off the business highlights with this video from Charlie Olson, owner of the Seattle-based burger chain, Blue Moon Burgers. Find out why Charlie thinks Approve 74 is "the right thing to do."
If you are a small business owner ready to pledge your support for the Approve Ref. 74 campaign, click here to get started.
Posted by sylvia | August 22, 2012
We wish we had a token of appreciation for each video entry we received for the 'Why Marriage Matters' contest. The videos were creative, heartfelt and deeply personal.
It was a tough job narrowing so many entries down to three finalists, but we did, ultimately leaving out some really neat videos in the process.
There's one from Noah in Seattle who speaks movingly of his friends in loving, committed same-sex relationships. There is a humorous one of two little boys in the backseat of a car pondering the difference between marriage and domestic partnerships. There's even a Seattle city councilman thrown into the mix.
Here are a few of the videos that didn't make the final cut, yet deserve an audience anyway:
Noah:

Seattle City Councilman Tim Burgess:

Car Trip:

Posted by sylvia | August 21, 2012
In July, we came to all of you, asking you to submit a short video explaining why marriage matters to you. We received 60 submissions from people all over the state, from all walks of life, each providing a valuable addition to the story of this campaign.
It was a difficult picking just three finalists, but we did. One was Sonya Marinoni of Bainbridge Island, happy that her daughter could marry her partner in New York, but hoping that after November, other parents can see their children marry here.  And also Nathan Tedrow of Seattle who volunteers for the campaign and made a heartfelt case for the freedom to marry.
But when the votes were counted — and it was very close — the winner was the Flentke-Terry family of Vancouver who were introduced to viewers by eight-year-old Emma.  Check out all three here:
Emma

Nathan:

Sonya:

Posted by sylvia | August 21, 2012
Patricia Flores is a proud grandmother from Seattle. And like any grandparent, all Patricia wants is for her seven grandchildren to be happy.
Her second-born grandson Jesse came out as gay when he was fourteen, and while Patricia was overjoyed that Jesse shared this important part of who he was with her, she knew that unlike her other six grandchildren, Jesse would someday be denied the freedom to marry the person he loves:
"Six of my grandchildren have the… freedom to marry. But one of them, Jesse, doesn't have that freedom. And it makes me really sad. It makes me angry and frustrated because that freedom is just as important to Jesse."
For Patricia, the campaign to Approve Referendum 74 is personal. She wants to watch all of her grandchildren- including Jesse- build a life, have a family, and marry the person they love.
Watch Patricia's touching video explaining why Approving Referendum 74 is so important to her. Then check out our other videos featuring everyday Washingtonians sharing why marriage matters to them.
Posted by Andy Grow | August 8, 2012

We're in Eastern Washington today talking to small businesses about how they can join the campaign to Approve Referendum 74. Want to learn more about how small businesses are helping to defend the freedom to marry in Washington? Click here.
Posted by Andy Grow | August 8, 2012
Check out the latest TV ad from our coalition partners at the Pride Foundation that's now airing statewide! The ad features Reverend Gib Rossing and his wife Beth explaining why they want their son Jonathan to have the freedom to marry his long-term partner Ryan here in Washington.
Like many Washingtonians, Rev. Rossing and Beth weren't always sure how they felt about marriage for same-sex couples. But as they witnessed Jonathan and Ryan's committed relationship, they came to realize that all loving couples want to marry for similar reasons: to make a lifetime commitment before family and friends.
The ad is the latest in an ongoing public education effort to make the case for marriage for gay and lesbian couples across the state.
Watch the ad now and then share it with your friends on Facebook and Twitter!
Posted by Andy Grow | August 7, 2012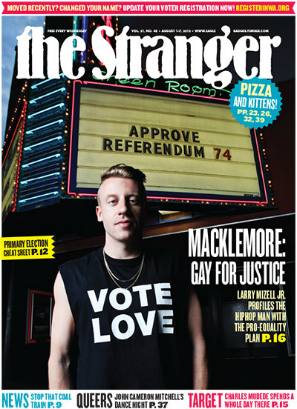 Music for Marriage Equality supporter and Seattle-based hip-hop artist Macklemore covers this week's edition of The Stranger. In it, he provides the background and inspiration for "Same Love", the tune produced with collaborator Ryan Lewis, also featuring Mary Lambert.
The tune has already scored over 10,000 downloads. 100% of the digital download proceeds benefit the fight for marriage equality. Be sure to get yours today through iTunes or Amazon.
Posted by Andy Grow | August 2, 2012
The "Savage Love" burger is the August "burger of the month" at Blue Moon Burgers in Seattle. Blue Moon teamed up with celebrity columnist, author, and Stranger editor Dan Savage to create the the burger, and will donate 25% of the burger proceeds to Washington United for Marriage.
We tried it this evening. The verdict: delicious.
Posted by Andy Grow | August 1, 2012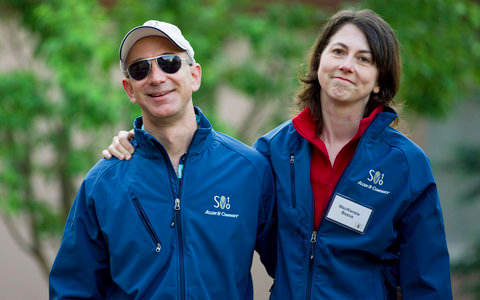 Photo: Matthew Slater/Bloomberg News
Earlier today, Washington United for Marriage announced a historic donation to the Approve Referendum 74 campaign from Amazon founder Jeff Bezos and wife, Mackenzie. The couple's $2.5 million gift is believed to be the largest gift ever donated to a marriage equality campaign to date.
via The New York Times:
With the gift, the couple have doubled the money available to the proponents of Referendum 74, which would legalize same-sex marriage in the state by affirming a law that passed the Legislature this year.

Proponents of the effort in Washington State called it a game-changing gift that gives them a fighting chance in November.
Posted by Andy Grow | July 27, 2012
Seattle Hip-Hop artists Macklemore & Ryan Lewis's poignant, personal ode to Marriage Equality "Same Love" is now available for sale.
Yesterday, Sub–Pop records released the single on iTunes and Amazon at .99 per copy.
The best part: 100% of the digital download proceeds will go to benefit the fight for Marriage Equality.
As of this writing, the single has already cracked the top 200 singles and is #29 on the iTunes hip hop singles chart. Let's push it higher.
Download your copy today, and spread the word among your friends and fellow supporters.
Click here to listen and purchase.
Posted by sylvia | July 25, 2012
Join The Fights!

Sign up for updates from the campaign