Operations Note: This site remains operational as an educational example as well as testing tool.
Due to testing,the site may periodically be down.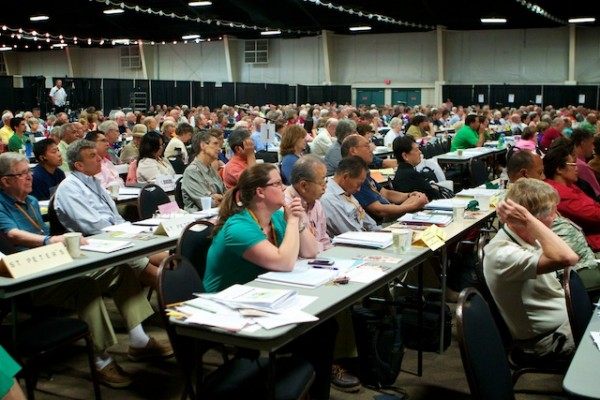 From the June 29th press release:
"United Methodists from across Washington and the northern panhandle of Idaho passed legislation supporting SB  6239, known also as the Marriage Equality Act, during their annual conference held June 21-24 at the TRAC Center in the TriCities.
The resolution "encourage(s) all people to approve Referendum 74 so that the Marriage Equality Act can be put into law."
Photo: Patrick Scriven
Posted by Andy Grow | July 3, 2012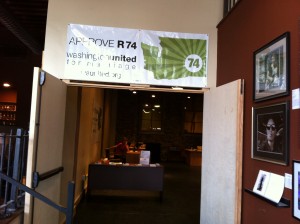 Today, we're opening our new Action Center on Capitol Hill (Seattle) at 517 East Pike Street, inside Kaladi Brothers Coffee. Our official grand opening is still a few weeks away, but you can still enjoy this preview:
Need information on how to get involved with the campaign? This table is a great place to get started.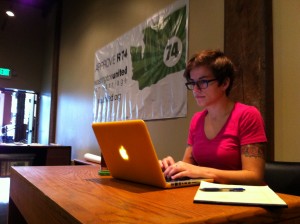 Regional Field Director Maggie Thompson is working hard to fill this space with enthusiastic volunteers.
Posted by Andy Grow | July 3, 2012
The freedom to marry movement is a bi-partisan affair. For our 5th installment in the 'Why Marriage Matters' series, we've featured Washington State Senator Steve Litzow, a Republican of Mercer Island, WA and a co-sponsor of the historic Senate Bill 6329.
Presenting the conservative case for marriage equality, he says:
If we believe that people can pay taxes and they can vote, and the can start a business, and own a gun, then we should allow them to choose who it is they marry.
If you're ready to cross the partisan divide and fight for the right of all Washingtonians to marry the person they love – click here to get started.
Posted by Andy Grow | July 3, 2012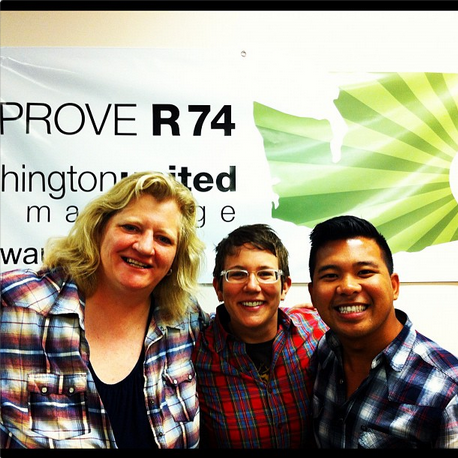 (from left: Sheila Stickel, Deputy Campaign Manager; Amy White, Coordinated Committee Chairperson; Adrian Matanza, Field Director)
The word of the day is: Plaid.
Posted by Andy Grow | June 29, 2012
Congressman Adam Smith (D-WA) introduced a bill yesterday that would open the door for gay and lesbian spouses of U.S. military service members to receive the same benefits granted to heterosexual spouses.
"Smith's bill, the Military Spouses Equal Treatment Act of 2012, would redefine the term "spouse" in federal laws governing military benefits as any individual who has entered into a valid marriage."

"The current definition of spouse, which comes directly from the Defense of Marriage Act, refers to a person of the opposite sex who is a husband or wife."
Congressman Smith continued:
"Spouses of service members should not be prevented from receiving the benefits they have earned simply because they are the same sex as their partner,"
Under current law, Same-sex military spouses are often denied spousal benefits such as: medical and dental insurance, housing benefits, and treatment in military medical facilities, among many others.
Read the entire article here:
Adam Smith's Bill Redefines 'Spouse' for Military Service Members
Posted by Andy Grow | June 28, 2012

This video is the fourth in a series highlighting Washington Families and individuals from all walks of life sharing the importance of marriage to their lives.
Rev. Melvin Woodworth of Tacoma, like many veteran clergymembers didn't begin his professional ministry with much perspective on gay marriage. However, he notes:
"Our tradition said that God didn't think it was good for a person to be alone. God wants us to be in relationship with other people…[and] in relationships that have certain qualities– honesty, faithfulness, mutuality, equality…"
In the video, Rev. Woodworth talks about meeting with a gay parishioner early in his work.  "As he talked to me, I realized that he was like every other person who had come to me wanting to get married," he says. "He had love in his heart, he wanted to share it with the person he had found, and he wanted to shout it from the rooftops."
Working with gay parishioners and years of deep study of and reflection upon religious scripture led him to his final conclusion:
"I've just come to the point where I understand that this is the right thing to do."
Is your congregation or faith community interested in joining other faith organizations in solidarity with Washington United for Marriage? Click here to get started.
Posted by Andy Grow | June 28, 2012

This video is the third in a series highlighting Washington families and individuals from all walks of life sharing the importance of marriage equality to their lives.
Pablo Monroy of Tacoma, WA has had one wish ever since he was a young boy growing up in Pasco:
"…when I was growing up I wanted to get married, settle down, have a family…white picket fence"…"And even after I realized I was gay I still wanted that, with whoever I loved."
The wish remained true when he joined the U.S. Navy fresh out of high school in 2006. He served a four–year tour in the Navy, where he advanced as an enlisted sailor to the rank of Petty Officer, Second Class.
Unable to serve openly gay, he joined the Service Members United Network upon his retirement from the Navy in 2010.
Today, Pablo is a student at the University of Washington – Tacoma. He was encouraged by the repeal of DADT to become an active member of the Washington State National Guard, and continues his commitment to serve the LGBT military community.
He also gave an elegant and passionate testimony before the Washington State Senate earlier this year in favor of Senate Bill 6239– the bill that legalized same-sex marriage in Washington State.
Pablo and his longtime partner Derrick are engaged to be married on August 11, 2012– a marriage ceremony that will now be categorized as a "commitment ceremony" due to Referendum 74 this November.
Pablo and Derrick will be in Seattle for this weekend's festivities. Come meet them and show your support for marriage equality at the Seattle PRIDE parade and festival this Sunday.
Posted by Andy Grow | June 22, 2012
It's only been 8 days since our opponents submitted signatures to put our state's marriage law on the ballot this November. Already the momentum to Approve Referendum 74 and defend the freedom to marry is incredible- both here in Washington and in the netroots!
When we learned last week that our opponents had gathered sufficient signatures (thanks, in large part, to paid signature gatherers) LGBT bloggers around the country stepped up to the plate to help equip our campaign with the resources we need to turn out voters and win this November.
In just 24 hours, our blogger friends helped raise over $4,200 for Washington United for Marriage- money that will go instantly to funding our efforts to talk to more Washingtonians about why marriage matters for same-sex couples.
We're incredibly grateful to bloggers at GoodAsYou, Towleroad, JoeMyGod, The New Civil Rights Movement, and David Mixner for their commitment to helping us pass Referendum 74. With the help of such incredible allies and the dedication of our volunteers and supporters around the state, we're on track to ensure that all loving couples in Washington can marry in the state we call home.
Posted by Andy Grow | June 14, 2012
The month of June is usually pretty calm for Washington state campaigns, but for Washington United for Marriage, it's going to be HUGE!  We'll be at Pride events all over the state, recruiting volunteers, raising money, and generally letting everyone know: it's time; let's get engaged!  
Of course, Pride weekend in Seattle on June 23-24 will be the largest celebration in the state.  We'll have a big presence at Saturday's festivities on Capitol Hill.  Then for Sunday's Parade we'll have hundreds of volunteers from the GLBT community, organized labor, faith organizations, businesses, and communities of color all walking United, for Marriage.  We'll be sharing more with you in the weeks ahead, but for now, go to the Pride RSVP page and sign up to help for the Pride near you. It's going to be huge I tell ya! HUGE! 
Posted by Andy Grow | June 5, 2012
The June 9 Get Engaged to Defend Marriage Equality Gala is this Saturday night! Equal Rights Washington, one of the WUM coalition's founding members, is turning their annual gala into a huge fundraising event for the marriage equality campaign. This is the big campaign kick-off fundraiser. The event – we dare say – of the season.  Hundreds of your friends will be there to show their support for marriage equality, and have a great time while they're at it.
You should be there too. The Gala starts at 6 pm on the 9th, at the Washington State Convention Center.  Tickets are $174 each (that's 74, as in Referendum 74) and tables of ten are $1,174. Here's where you can sign up: https://washingtonunited.fastercampaigns.com/gala  See you there!
Posted by Andy Grow | June 5, 2012
Join The Fights!

Sign up for updates from the campaign