Operations Note: This site remains operational as an educational example as well as testing tool.
Due to testing,the site may periodically be down.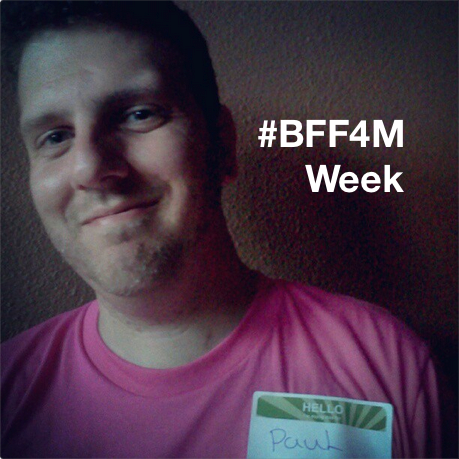 Today, we launched Best Friends 4 Marriage (#BFF4M)– a fun concept that asks everyone, gay and straight to acknowledge the bonds of friendship that motivate support for the Approve Ref. 74 campaign to defend the freedom to marry in Washington State.
So, how do you get in on the fun?
Just snap and upload a photo of you and your gay/straight friend. Or a photo of you holding up the name of the friend for which you are supporting Ref. 74.
Are you using Instagram? Flickr? It doesn't matter to us. Simply tag it with our #BFF4M hashtag– to help us find it on the web. Be sure to add your first name(s) and your location. And we'll add you to our circle of support on our #BFF4M Pinterest board.
In the meantime, let's celebrate friendship, let's celebrate love and keep your eyes peeled for some special events saluting this bond in the week ahead.
Posted by Andy Grow | July 16, 2012
On Tuesday, the Episcopal Church overwhelmingly approved liturgical rites for same-sex couples. Over 75% of the voting bodies at the Episcopal General Convention, which includes priests, bishops, and lay members alike, voted to include gay and lesbian couples in the church's holy covenant service. The service, while not classified as a marriage, will enable couples to stand to make a lifelong commitment to one another while standing at the altar before family and friends.
The Episcopal Church, which boasts 85 million members nationwide, joins a growing number of faith communities in affirming that all committed couples deserve equal recognition and respect. Rt. Rev. Greg Rickel, the Episcopal Bishop of Olympia, applauded the Church's decision, telling the Seattle Post-Intelligencer:
"It had to be a most gratifying day for gay and lesbian people, who share a deep and abiding love, in fidelity, for one another. Their journey has been long and many of them may not feel this is all they would like to see, but most present here are surely gratified this day."
Rev. Debra Peevey, our Director of Faith Outreach at Washington United, celebrated the Episcopal Church's move to embrace marriage for all loving couples:
"I rejoice with my brothers and sisters in the Episcopal Church who voted overwhelmingly to support Holy Covenant blessings to gay and lesbian couples making faithful, lifetime commitments. While this is a historic step forward, let us remember that those blessings do not provide the protection of Civil Marriage. That is why we are praying and working to Approve Referendum 74 which will allow loving, committed same sex couples the responsibilities and protections of Civil Marriage in Washington State."
Here in Washington, we're proud that nearly 40 religious and faith organizations have joined our coalition to defend the freedom to marry. You can see the full list of faith organizations here.
We're confident that as people of faith continue to talk about why marriage matters for gay and lesbian couples, support for approving Referendum 74 in faith communities will only grow between now and Election Day.
Posted by Andy Grow | July 12, 2012
via the Seattle Post-Intelligencer:
The Seattle Metropolitan Chamber of Commerce has endorsed Referendum 74, the measure on November's ballot that would make Washington the nation's seventh state to legalize civil marriage between same-sex couples.
"There is a clear business case for supporting equal access to civil marriage rights," said George Allen, the Chamber's vice president for government relations.
"Marriage equality allows companies to streamline benefit administration, improves our members' ability to recruit and retain the best talent, and helps our state's bottom line," he added.
Specifically, the Chamber said same-sex marriage would "improve recruiting efforts for state businesses, which compete against companies in states like Massachusetts and New York that have extended civil marriage rights to same sex couples."
Zach Silk, campaign manager for marriage equality, reacted to the Chamber's backing by saying:  "It's very important for people to realize that defending the new marriage law and approving Referendum 74 is not only good for all Washington families, it's good for business, too."
No state has ever voted for marriage equality, although in 2009 Washington voters ratified Referendum 71, the civil unions legislation that extended almost all benefits of marriage to same-sex couples.
But the 2012 election may change all that.  Washington, Maryland and Maine voters will find marriage equality on their fall ballots.  Polls show the measures leading in Washington and Maine.
In Maryland, same-sex marriage faces powerful opposition from the Roman Catholic hierarchy.  But a recent poll showed increasing support among African-American voters since President Obama came out May 9 in favor of marriage equality.
The Chamber's position gives Referendum 74 support from business, labor and Democratic groups that frequently find themselves adversaries on other issues.
Posted by Andy Grow | July 12, 2012
A series of polls released over the past two months confirms that marriage equality is now a mainstream value. Public opinion polls by Gallup, ABC, NBC, and CNN have found support at 50, 53, 54, and 54 percent, respectively. This represents the highest support for marriage equality ever recorded. Historically, a majority of Americans have opposed marriage equality. These polls suggest that the public support has hit a tipping point, as polls over the past two years have shown that a clear majority favors the freedom to marry.
The Center for American Progress released an issue brief this week breaking down the numbers and looking forward to November as voters take to the polls to vote on marriage equality referenda in four states. The brief finds that the strong majority backing for equality is buttressed by strong, stable and increasing support from young voters, independents, and people of color – all crucial demographics in the upcoming elections. In fact, current polling suggests that marriage equality is poised to prevail in the four states with marriage on the ballot this fall.
In early May, President Obama became the first sitting president to endorse marriage equality. Polls since then suggest that his announcement strongly influenced African American voters. An ABC News poll found support among black voters at 59 percent after Obama's announcement, whereas it hovered at about 40 percent beforehand. In the state of Maryland, support for the freedom to marry among black voters skyrocketed from 39 to 55 percent, a complete reversal from just three months ago. The President's announcement has clearly made an impact in the African American community, one which could prove decisive at the ballot box.
These polls, however, continue to find a significant generational gap in support for marriage equality. While all age groups favor equality more today than a year ago, 73 percent of voters ages 18-34 back the freedom to marry, whereas only 35 percent of voters above the age of 64 do. With regard to political affiliation, recent polls find that about 60 percent of independents favor marriage equality. Both young voters and independents are potentially key voting blocks, and support for marriage equality among each demographic only continues to rise.
Gay couples eager to be married should be cautiously optimistic about the upcoming battles this November, with marriage equality on the ballot in Maine, Maryland, Minnesota, and Washington. In those states, polls find support at 55, 57, 49, and 54 percent, respectively. What's even more telling is the gap between those who support and those who oppose equality. In Maine, Maryland, and Washington, that gap is a staggering 20 points. Furthermore, advocates for the freedom to marry have leapt over the so-called "enthusiasm gap." Today the percentage of voters who strongly support marriage equality outnumbers those who strongly oppose equality by 7 points, indicating that staunch opposition to equality for gay couples is losing steam.
Based on these polls, President Obama's position on marriage equality now falls squarely in line with the majority of the American public, while Republican lawmakers still lag far behind, including the presumptive Republican nominee for President, Mitt Romney. There are strong signs that the freedom to marry will become law in at least one state this fall. But regardless of what happens in November, support for marriage equality is trending upward, and will likely continue to do so with growing support among young generations and other key demographics.
Posted by Andy Grow | July 12, 2012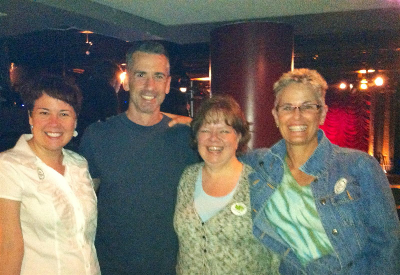 A little-known perk of volunteering with Washington United for Marriage: sometimes you get the chance to meet really cool people. People like Dan Savage at an event in Seattle.
Are you ready to GET ENGAGED? Click here to get started.
Posted by Andy Grow | July 9, 2012
Today is a big day for the APPROVE Ref. 74 campaign.
This morning, we announced our fundraising totals for the month of June. Thanks to all of you, we were able to raise $952,267.
This is a home-grown, people-powered campaign with 90% of our donations coming from WA State residents. 79% of our donations were less than $100.
We've come a long way in a relatively short period of time, but we have a long way to go until election day in November. Your continued support is urgently needed to ensure that we remain competitive with the opposition throughout the summer and into the fall.
We had a great month in June. Let's keep moving forward.
Posted by Andy Grow | July 9, 2012
Proud to be a part of the Washington Businesses for Marriage Equality - OF COURSE we endorse @WA4Marriage ! bit.ly/LAR8wS

— Blue Moon Burgers (@BlueMoonBurgers) July 9, 2012
Posted by Andy Grow | July 8, 2012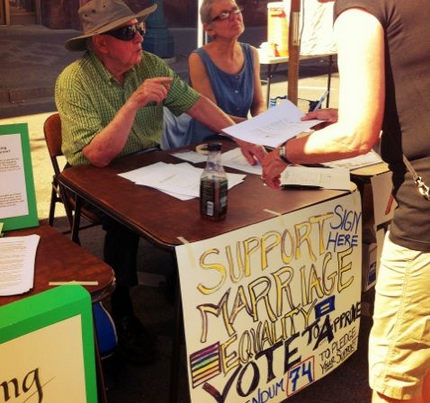 Volunteers from Ellensburg United Methodist Church engage voters and supporters from their table at a Farmer's Market in Ellensburg, WA.
Posted by Andy Grow | July 7, 2012
All in a days work for E King Team We've been all over the East side collecting pledge cards for #WA4M @WA4Marriage twitter.com/TherealPViddy/…

— Marcus Vusovich (@TherealPViddy) July 4, 2012
Posted by Andy Grow | July 4, 2012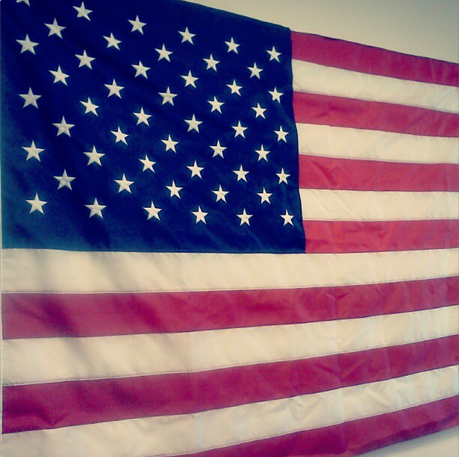 Today, let's celebrate American freedom. Tomorrow, join us in the fight to ensure that every Washingtonian has the freedom to marry the person they love.
If you're ready to GET ENGAGED with the Approve Ref. 74 campaign, click here to get started.
Posted by Andy Grow | July 4, 2012
Join The Fights!

Sign up for updates from the campaign